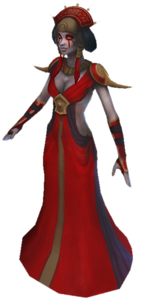 Queen of Thorns - boss at the 25th level. Known under the name of Maeliel. She lives in the Ealhwold fortress. She wants to posses the power of the Sentinel and become a divine being. Maeliel is the lover of the Betrayer. According to legends, she is the one who persuaded him to destroy the World Tree.
Ad blocker interference detected!
Wikia is a free-to-use site that makes money from advertising. We have a modified experience for viewers using ad blockers

Wikia is not accessible if you've made further modifications. Remove the custom ad blocker rule(s) and the page will load as expected.